CULT TIMES

MAY 1999

The Best of Both Worlds

by Richard Houldsworth
Around about Stardate 51003.7, Captain Janeway recruited a valuable new member to her crew: brainy Borg babe Seven of Nine. We waylayed Jeri Ryan and Kate Mulgrew en route to the end of Season Five, to find out how things stand two years on......
--Part One---
Jeri Ryan interview omitted
--Part Two---
Kate Mulgrew
---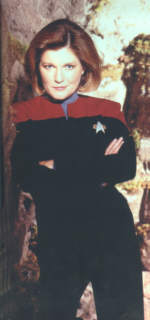 AS CULT TIMES meets with Kate Mulgrew in Pasadena, California, it's obvious that the actress is filled with mixed emotions. Star Trek: Voyager, the once maligned series she has fronted for five years, has now reached a plateau of excellence, but the strains of being a TV celebrity are beginning to take their toll.

"It has taken off," she says of the show, "but I think that's what happened to The Next Generation; in the fifth season too. For some reason the fifth season seems to be the seminal year. There's a sense of relaxation and buoyancy.

Mulgrew attributes much of the show's current success to Brannon Braga and Joe Menosky, who have shaken up the template handed over by outgoing executive producer Jeri Taylor.

"Brannon Braga and Joe Menosky are young and they are edgy and terribly smart," Mulgrew notes. "Their approach to Science Fiction is far more compelling than I think it has been in the past. In the past a kind of myopia has been exercised. Brannon and Joe have been smart enough to realize there is a greater audience for Voyager if, in fact, you lead them down an interesting path. Hitchcock did it brilliantly; you knew when you watched a Hitchcock film that it was going to be suspenseful, but all the components he added were so compelling.

"That's what Brannon and Joe are bringing to it; character developments, nuances, subtlety, surprise.., a quotient of unpredictability, certain chemistries that otherwise I don't think would have been explored. And they are not afraid of the dark currents, which I think people love to watch. It's gone to an entirely new level, and they are to be completely credited with this success.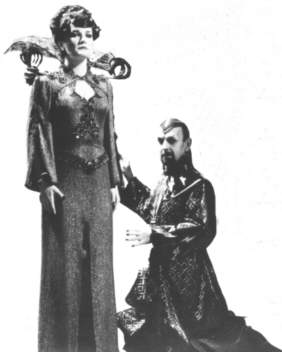 As an example, she cites the rather daring Bride of Chaotica! a diverting tale filmed predominantly in monochrome in which Tom Paris's Captain Proton Holodeck simulation threatens the safety of the ship. In order to save the day, Captain Janeway must take on the part of the vampish Arachnia, Queen of the Spider People, and woo Dr Chaotica (Martin Rayner).
Dressed head to toe in an exotic sequinned costume and overdone make-up, Mulgrew is a treat as the deliberately hammy Janeway.
"It was absolutely a black and white movie from the 30s," she says with delight. "So extravagant and so outré' and so fun. I was amazed. It was just delicious. I don't usually get to laugh like that."
Just as the writers have discovered a rich vein of storytelling, so Mulgrew has found peace with her character. The actress has invested a great deal in Voyager's Captain, creating a compelling and; credible authoritarian figure who also displays a very strong emotional core.
"I love her spirit," the actress muses. " I love her depth. She's really got that mettle that I so admire. She's actually a little noble, but she's deeply flawed and she understands the absurdity of life. And then, of course, she has that curiously scientific mind, which is the great challenge to me.
Yet despite her bond with the character, Mulgrew is all too aware that her days with the series are numbered. She is contracted for one more season, but already looks ahead to life after Star Trek.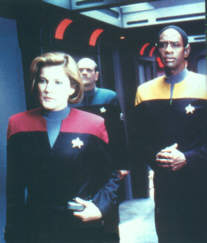 "Five years is a long time for anything, and certainly creatively," she sighs. "Painters don't stay on the same canvas for five years. I've tried to make it a refreshing and compelling and interesting canvas each day, but this is a remarkable challenge and I find that I need to be fed on more interior levels. I'm not sure those needs are being met, which sounds slightly petulant and I hope never to sound that way. I've loved this role, and I needed this job badly when I got it. I am very grateful for this opportunity.
"This series has completely and utterly changed my life, and my way of life, and my approach to life. It has altered my maternal path and my personal choices have been extremely influenced. My immersion in the work has been total, my isolation has been insidious. It's been good, but I am a funny creature. I reach an impasse and I know exactly which path I'm going to take."
This change in her life begins in June, when the actress plans to marry Tim Hagan.
"I met him in Ireland five and a half years ago," she reveals. "I was on vacation, but he was at the embassy visiting the ambassador, who is my mother's best friend of 55 years. I walked in and there was this guy, it was instant. He has changed my life, because I have been waiting for him a long, long time. Now I am in love for the first time in 43 years and I will be damned if anybody will take that away from me."
Mulgrew also intends to find more time for her children, and it's quite clear that she deeply; regrets spending so much time away from their side during the past five years.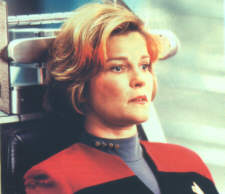 "They do not like it," she says candidly. "They're begging me to get out. It's the celebrity at a time of their lives when they needed to be nurtured. The phone never stops and the demands are constant. It's heart-breakingly tough.
"I think that my transition will be quite severe: I want to go back to New York and get back on the stage. I think I need to bid Hollywood adieu for a while, and find out what is left of my soul."
Kate Mulgrew may one day leave Star Trek, but it seems unlikely that Star Trek will ever leave Kate Mulgrew. For fans and casual viewers alike she will always be the admirable Captain Janeway, who will live on in books, videos and comics. The actress admits that she is "deliberately naive" when it comes to Star Trek's history, a fact she believes has allowed her to retain a certain freshness in her performance.
"I'm not terribly well versed in Star Trek lore," she divulges, "and I was not at all going in, which I think has stood me in good stead. I know enough to tell you that it is a way of life, that the fan base is more phenomenal than anything you can possibly imagine - daunting, in fact."
If ever Mulgrew needed convincing that the Star Trek phenomenon was a positive force, she can recall the tragic case of a terminally ill child who once came to visit the set. This meeting would ultimately leave a strong mark on both of their lives...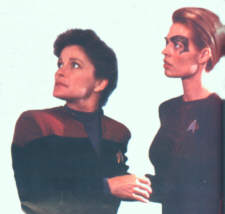 "We do this thing for Starlight, where sick kids have a dream to come and see Star Trek," she says gravely. "You give them a tour, and you get to know them a little bit, and there was this boy from England and he was dying."
She pauses. "This gets me every time I say this... His mother and his brothers were there, and he could hardly move - we had to help him up physically to the stage. I knew that I would never see him again, so I took his mother into my trailer and I had a half hour alone with her, because I was very concerned. She broke down in my arms, and she said `It's just a matter of weeks' and indeed he died.
"But posthumously I got a gift from him, and the mother sent a letter as well saying, `Paul insisted on finding this gift for you', which was a crystal dish of pot-pourri. And he said that I had made his year one that he would never forget.
"I always have that pot-pourri on my desk. I'll never, ever forget that."