DAYLIGHT TV

July 1976

Kate Mulgrew Is 21 And Ready To Conquer The World

By Gloria Paternostro
Kate Mulgrew's Irish Spring commercial is probably the most blatant piece of type casting she'll ever encounter. For if you wanted to capture and label her, a dew-kissed spring morning in Ireland would be as close as you'd ever get.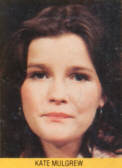 When we met recently on a frosty New York morning, she wore no makeup, displaying her pale, creamy skin, classic features and lovely blue eyes to perfection. She is as natural as her looks, a charming combination of idealism, ambition and common sense.
At 21, Kate, one of eight children, already knows exactly where she's headed. Or does she?
"In ten years," she says, measuring her words, "if I'm not a great actress, I'll be surprised."
You know she means it, and yet, there's not a trace of arrogance—simply a cool appraisal of her own talent. Then the vulnerable Kate slips through.
"Now, I shouldn't have said that because I'm very superstitious."
After a mental struggle, the confidence returns. "But I've lived with this thought so long, I've decided there comes a point in your life when you can't deny what you want. As long as I'm on Ryan's Hope, I'll be doing other things. . . but I'll be saving money for the future so I can afford the lifestyle I'll need to achieve my goal in the theater and films. But I'm not afraid of having to scrape again if I have to."
The stubborn chin juts out and just as you feel sorry for anyone or anything that stands in her way, the tone softens and yet another Kate emerges.
"But there are other, more important things I want from life. In 10 years, if I'm not a good woman, I will leave the theater to become one. By that I mean if, within that 10 years, I've not learned the essence of Christianity, what it is to be kind, what it is to love to my fullest capacity.. . ."
She trails off, leaving the thought in mid air. Does this include marriage and children?
"Absolutely! I think that's my greatest goal. I certainly would forsake the theater for that."
She agrees that her burning ambition as an actress and her willingness to abandon it all for love, marriage and children are contradictory, but denies neither.
Much of her philosophy comes from her mother, whom she obviously adores.
"Any real love of the theater, of the world—of things cosmopolitan by nature, of travel, of artistic endeavors, that sort of thing—is attributable to my mother."
Two of her sisters have died, one quite recently, and she covers the hurt by denouncing large families.
"I've watched my parents and what it's done to their lives. Eight screaming children. Two deaths. My father never got the brunt of it, but my mother—my God—it seems she was pregnant half her life!"
Obviously, Kate wants none of this, right? Wrong!
The laughter bubbles up in her. "I'd love to have a large family! I can count a hundred things that were bad, a hundred million things, but if there is one thing that stands out, it is uncontrollable laughter. And when you have that, it pulls you through regardless—you go through life with it."
Kate would like to marry around 30, when it will all fit into her well-ordered life, but admits to being quite seriously involved with an aspiring director.
"For the first time in my life, I'm not hesitant to talk about it. He's just an extraordinary human being. He's so eminently good—kind. If he gets his break, he'll be a fine director. But we lose patience with each other over that. You see, I believe men should make it in a second!" She snaps her fingers and laughs, as though recognizing how unrealistic she's being.
"I made it fast enough—so can he!" For a moment, there's a steely glint, but it disappears instantly, and she adds enthusiastically, "I really love him! He's terrific!"
But she insists marriage is not in the cards at present and refuses to speculate about the future.
Right now, she's awaiting word on the part of Catherine in the movie version of Sidney Sheldon's The Other Side of Midnight.
"I'd be perfect for Catherine," she states candidly. "There have been plenty of parts where I knew I was wrong, but not this time. I am Catherine! I behave like her in many ways!"
Unlike many serial stars, Kate doesn't find the work difficult and offers an unusual opinion on the hour format.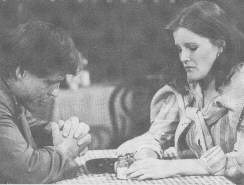 "I'd love it! More money, for one thing. It couldn't be much different. Besides, a soap is a soap. You get the script, you learn it, you come in and you do it. Three basic steps."
Her tone allows no sympathy for incompetence. "So it's twice the work—hard work has never fazed me! It would be wonderful to work that much!
"I never expected a soap opera to be this good. But I wasn't prepared for the company, the atmosphere, the discipline or the people. They're all wonderful! I adore Michael Levin. Claire Labine and Paul Mayer are fantastic. They know how to write for me—that's why my scenes are so great!"
The impish smile mocks you, daring you to think her conceited. But whatever you think of her, she'll surprise you. Whenever you feel you've finally grasped the real Kate, another one appears.
None of them stands alone. It is the combination—the sweet and the strong, the serious and the comic, the determined and the vulnerable—that adds up to the liveliest and most interesting colleen this side of the Emerald Isle.