McCall's
January 2000
On TV, Star Trek: Voyager's Kate Mulgrew calls a spaceship home. In real life, she prefers something a little more cozy.

By Barbara Stepko
Photographed by Dale Berman
Click on photos for captions & larger view
Please do not repost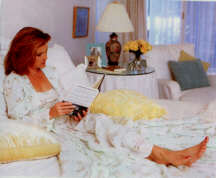 As the no-nonsense Captain Kathryn Janeway in the UPN series Star Trek: Voyager, actress Kate Mulgrew guides a team of space explorers across the galaxy in search of a way home. Back on planet Earth, though, the 44-year old actress has already found her sanctuary: a 10-room house in Brentwood, CA that she shares with her husband, Tim Hagan and her sons, Ian, 16 and Alexander, 15.
Although it's every bit as elegant as other Hollywood homes, this traditional-style dwelling was designed to reflect the warm, familiar personality of its owners. 'Our house is deeply welcoming,' says KM. 'If you can't put your feet up on the coffee table, it's not home. If somebody drops a glass of wine on the floor, it's not the end of the world, it's probably the beginning of the party.'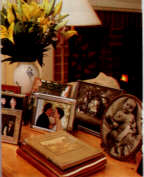 And in these rooms, the furniture mingles as effortlessly as the frequent guests. Through the years, Mulgrew (whose motto is 'Matching is for sissies') has managed to amass an eclectic mix of furniture - and every last piece holds a precious memory. 'A home should be filled with history,' she says. 'I've carried each chair, lamp and picture frame through the many chapters of my life. To me, furniture is alive.'
The dining room demonstrates her philosophy. Mulgrew bought the huge cherry table more than 20 years ago, when she was still a struggling actress. Displayed on top is a pair of bronze candle holders ('from my romantic days when I lived in Italy,' she says). The silver candelabra is a keepsake from her grandmother, the buffet was crafted by Mulgrew's brother Joe and the paintings that adorn the walls were done by Mulgrew's sister-in-law, Wendy Rolfe.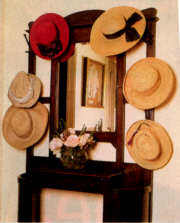 Perhaps the most poignant memento, though, is a velvet embroidered pillow that sits on a living room chair. It reads in part: 'Happiness is like a butterfly; the more you chase it, the more it will elude you.'
'I bought that when I was 18 and practically starving to death in New York,' Mulgrew recalls. 'It cost me $275 - money I didn't have. But at that time the pillow meant a great deal to me, as it still does. If you remember the past but live in the present, you've learned a great lesson.'