MORE
March 2004
Kate Mulgrew
Best known for her role on 'Star Trek: Voyager', Mulgrew, 48, went back to her theater roots as Katharine Hepburn in 'Tea at Five', now on a cross-country tour.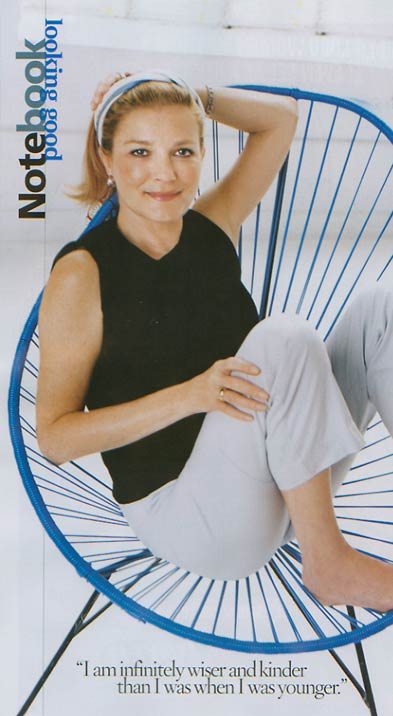 Kate's Picks
Venti Starbucks French roast latte, Bobbi Brown lipstick in Pink, Chanel No. 5 Bath Gel and Body Cream.
FASHION FETISH "I like menswear-inspired silhouettes-especially from Armani. I also live in slim-fitting Danskin athletic wear-but not during those times when my size-two body expands to a size six. My biggest shopping splurges are on Manolo Blahniks and French lingerie."

WALKING TOUR "While I was performing on Broadway, I would walk everywhere. It's a feast for the eyes-fifty blocks just fly by. At home in Ohio, I stick to strolls in the country; it's more for solitude and reflection than exercise. When I want to work out there, I swim in my pool. I love the water-maybe because I grew up landlocked in Dubuque, Iowa."

COMFORT FOODS "I have been on a diet my entire life, but am a salt addict. Fortunately, I don't have any sugar cravings. I could live on chicken and a glass of wine-and coffee, of course. When I'm working in the theater, I switch to tea, but during my downtime, I have four cups of coffee before I'm done reading the morning paper."

A SIMPLE PLAN "I take care of my skin in a very basic way. I don't buy into spending a lot of money to keep it healthy. I cleanse with Ahava, and have never gone to sleep with makeup. My makeup is also minimal."

MANE ATTRACTION "No actress who has been working for more than thirty years has thick, lustrous hair. There's a lot of abuse from driers, curling irons, haircolor and even stage lights. I wash it twice a week and let it air dry, keeping it out of my face with a scarf."

SCENT OF A WOMAN "I've worn Chanel No. 5 forever, and now I have the complete bath and body line so I can layer it on."