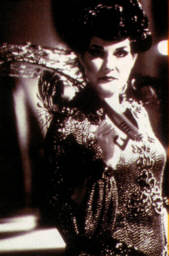 Photo: Michael Yarish
Stepping out of uniform? Janeway has done it several times, for instance-as Queen Arachnia, "Bride of Chaotica."
"If they intend to bring us home at the season's end, it will be made clear that we are going home."

Photo: Robbie Robinson
After five years, you bet this is a rougher, tougher Janeway. But her mission hasn't changed: She'll get Voyager and her crew home.