STAR TREK MONTHLY

NO:51 APRIL 1999

In the Hot Seat




At a UPN press conference in early January, Star Trek: Voyager's Kate Mulgrew, who has played Captain Janeway for nearly five seasons, shocked the media and fans alike when she revealed that personal commitments were leading her to consider leaving the series. Keen to put to bed any fears that she was about to walk out on the show, Mulgrew released a statement that same weekend assuring the public that she had no immediate intention of leaving Star Trek: Voyager. STAR TREK Monthly reporter Sue Schneider was among the journalists at the round table discussion during which Kate Mulgrew aired her forthright views......
"You've no idea of the scrutiny I was under [at the start of the series]. I had studio executives down there just staring at me every day, [asking] 'Can she deliver?'"
Kate Mulgrew has only positive thoughts towards her on-screen character, Kathryn Janeway, captain of a mixed crew of Maquis and Starfleet officers who have been journeying home towards the Alpha Quadrant for nearly five years now. "I love her spirit. I love her depth," she reveals. She's actually a little noble, but she's deeply flawed, and she understands the absurdity of life. And of course she has that curiously scientific mind, which is a great challenge to me. She has a gifted imagination as well, but she's recalcitrant, a little prickly and certainly not without ego. But she also has this profound sense, I think, of Humanity. She can talk to anybody and they listen."

But her journey through the 24th Century has not been easy. In 1994, Mulgrew took the part of Kathryn Janeway (original Elizabeth Janeway) on Star Trek: Voyager when Genevieve Bujold left filming on the pilot episode after just a few days. "It took me a long time to get my sea legs," Mulgrew recalls, "You've no idea of the scrutiny I was under. I had studio executives down there just staring at me every day, [asking] 'Can she deliver?' 'Does she have any natural authority?' So I spent the first two seasons establishing command, and I think I sacrificed what is naturally very becoming to me as a person and as an actress, which is my humour, my humanity, my levity and my depth.

"So after the second season, I let that go, and now we're at this place where the absolute extent of this commitment is so clear to both the producers and to me. I have been very devoted to her, and I have been unshaking and unshakeable in my resolve about Janeway, and I've kept my promise to them about her, and they have seen that and they've honoured it.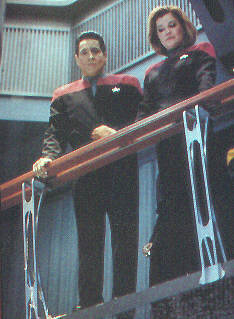 "I'm very happy," she admits when asked about her alter ego's current situation. 'I think producers Brannon Braga and Joe Menosky have taken us to new heights, their combined intelligence, which is not only keen but very far-reaching - and we're talking about edgy, bright, provocative, compelling imaginations and personalities at work - is taking the show to a new plateau, and I'd say very succinctly that their vision of Star Trek is the correct vision. Heretofore, I think that Star Trek was aimed at a specific audience. Joe and Brannon realise that it can be much, much broader, more far-reaching, and that's what they've done.

Of course, one of the things that the producers have not done on the series, and something which fans have strongly berated not happening, was furthering the oft hinted at romance between Janeway and Chakoty. "We missed that dance, and I called it," she admit, "so I'll be frank with you. I just didn't feel it was a good idea. I felt that it would be far, far more interesting, and far more genuine, if they had a deep and intimate and wonderful relationship, and they didn't go to bed. If she loses her nobility, that's my fault, so that's why I did it. I said, 'Janeway would not do this.'"

Mulgrew is particularly pleased with the way the fifth season is shaping up. "For some reason, the fifth season seems to be the seminal year," she notes, "but I attribute most of this to Brannon Braga & Joe Menosky, to the writing, and no small amount to the actors. It's been an absolutely seminal year, as far as I'm concerned, and they've left Janeway go, because they understand the essential thing of the actress under the character.

"I've had this broad under my belt for five years," Mulgrew adds, explaining what she means by `letting Janeway go'. "I own her, and nobody can tell me that I don't own her. So the marriage, which is sacrament here, is between the writers and myself. They cannot tread on my toes. Inherently, she is my possession, and that's the challenge. That's what made it so exciting to me this year."

"[My sons] want me to quit, because they're normal kids, and they want a normal mother."

This year is also one which is likely to present great challenge to Mulgrew in her personal life. The actress has come to realise more and and more over the years that her family life has suffered as a direct result of the long hours worked on Star Trek: Voyager. Her teenage sons, Ian (15) and Alexander (14) have taken second place to her work on the series and her celebrity status has continuously taken over from her role as a mother.

"I asked them to grow up way before I should have," Mulgrew admits. "I asked them to understand that their mother was a celebrity, a concept that no 10-year old boy should have to deal with as they're entering puberty. I asked them to accept a kind of maturity and responsibility that was I think kind of a bit of an imposition. And then furthermore I asked them to applaud me, `I want you to be proud of your mother'. They just wanted a mother. And I think that this has been so heart wrenching to me.

"So they want me to quit," Mulgrew reveals, "because they're normal kids, and they want a normal mother. They want to be free of it, and I want them to be free of it. They're on their knees to me. I've missed them badly in these five years, and that's taken its toll. I'm not sure I'm prepared to do another two seasons."

Mulgrew does admit, however, that her sons have nothing against the series itself or Star Trek. "Alexander will occasionally watch it with me," she remarks. "They love my work, and have over years. It could be anything. It could be ER. [The problem is] the celebrity quotient at a time of their lives when they need to be nurtured. They love me, believe me - they're very gracious and charming and [they're not] spoilt brats, but what they would say to you is, `Do you have a mother who's this [busy], who whenever I need her says, "It's impossible."' That's what they'd say, and I think that's fair."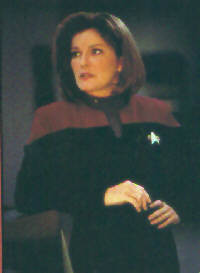 Coming hot on the heels of this revelation is the news of Kate's recent engagement to Tim Hagan, outgoing commissioner of Cleveland County, with whom she is to be married. "We met five and a half years ago in Ireland," Mulgrew recalls. "I was on vacation and he was there at the embassy visiting the US ambassador, who's my mother's best friend of 55 years. And my mother through Mr Smith [the ambassador] had met Tim Hagan, who was a big Kennedy aficionado, and who has been running the Kennedy campaign for years. So she said, 'You guys should get together. You're going to be in Dingle with the boys. He's going to be there in Dublin. Have a break, you'll be fine. If nothing else....'"

It's clear Mulgrew had no idea what Hagan was like before they met. "We met in Trelane, because I thought, `If I meet him halfway then I don't have to be stuck with a big fat thing, who'll give me nothing but a headache!' When I got there, the bar was closed, and I saw this man... I said, `Tim? Is he the guy...?' And he said `Kate'. And he later said to me `I saw you coming in, and you turned and you said, "Tim?", and I said, "There is a God"'.

"Well, that was five and half years ago," she muses. "We fell in love, and it was very deep and very romantic, but we allowed all of these impediments to get in the way - Star Trek, his daughters, my sons..."

Hagan proposed to Mulgrew in her living room a few months ago, prompting the couple to come to a decision about their future together. "I've made up my mind," Mulgrew asserts. "Five and a half years can make a big difference. I'll do whatever I need to do. I've always sacrificed my personal life, for either the children or my career. This guy shook me to the root of my being, to the very core, and I will do whatever is necessary to make this work.

"I didn't marry a man with this feeling. I didn't have children with this feeling," she continues, "and I am gutted if I am going to miss it now. There's just no question - I've experienced all of that stuff in life. I've acted and I've had babies. I've done it all. This needs to be honoured in its purest way."

Not only has this relationship introduced Mulgrew to new emotional feelings, it has also taught her a great deal about herself and her own needs and desires. "I have found this very revealing about myself," she explains. "I thought I was terrifically ambitious, needed this [job], desperately wanted it, took it, tried really hard to deliver, and I believe that I have. But is there anything on Earth more important than who we really are? And you begin to miss that."

"[Star Trek: Voyager] is deeply important to me. I've forged intense relationships with some of these people...I'm not going to walk away from [them]."

However, the actress is keen to emphasize her commitment to and love of her work, as well as her co-stars on the show. "[Star Trek: Voyager] is deeply important to me. I've forged intense relationships with some of these people. I love them. It's genuine. After five years, there's not one bad apple. I'm not going to walk away from these people."

Mulgrew also has no intention of giving up her career as an actress. "Eventually," she says. "I'm going to go back to the theatre in New York. I'm buying an apartment in New York, and we'll be living in Cleveland. I intend to go back to the theatre. That's exactly where the next chapter opens in this book. [Hollywood] was never my place. Manhattan was always my city. The minute I came to Hollywood, I got this creepy feeling. I just didn't get it at all. And I get it less now, and what I really don't get is why I've been down here for 16 years."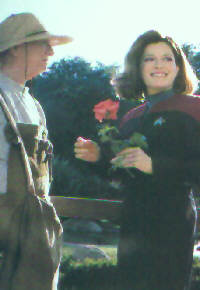 While the future of the show and Janeway's departure, should it happen, is still very much undecided, Mulgrew is happy to put her own ideas forward about how her alter ego could leave the series. `Well, if I were them I'd do a cliff-hanger!" she ponders. I'd do a cliff-hanger and I'd do it this year. I'd end this season with a dying Janeway, and then I'd come back and let her go after three episodes. Bad brutal death, brutal, horrible, tragic!"
But whatever the fate of Janeway, Mulgrew is more than positive about the show's future. "I have a very curious feeling about Voyager," she muses, "because I must say, I could not have said this a season or two ago I think it's taken off right now. I can feel it in my bones and I know it. I've been acting for 27 years, and I know when something is taking off. The work is water off a duck's back. When that happens, the audience understands immediately, and they find it electrifying. I think that by the end of this season - certainly by the middle of next - it will be well-determined what the future has in store."
Whatever does happen next, Mulgrew admits that she owes much to her career on Star Trek: Voyager, and that she has enjoyed her work on the series and what it has given her. "I'm much happier," she admits. "I'm older and I'm wiser. I've had such a good and fascinating life. I have loved this. It's been the most intriguing chapter of my adult life, because I had no idea what it would mean. I walked into this thinking, `Oh, thank god I got this job,' and it changed my entire way of life."
"Although I'm currently obligated through the sixth season of Voyager, there are a lot of changes in my personal life which are prompting me to think of my future once the show has ended. I continue to be extremely happy with Star Trek: Voyager and cannot imagine not participating in its entire run, whatever that may be."
Kate Mulgrew as quoted in a Paramount Pictures press release, 10 January
| [HOME] | [ARTICLES] | [BIO] | [CON REPORTS] | [FILMOGRAPHY] | [TV INTERVIEWS] | [PHOTOS] | [LINKS] | [ODDS 'N ENDS] |