TV BY DAY

August 1976
THE MAKING OF A SUPERSTAR

by Rocco Bufano
Many THANKS! to a Totally Kate! contributor for this article!
Please do not repost this article or photos
| | |
| --- | --- |
| An overnight success at twenty, Kate's set her sights on the Big Time and it's guaranteed she'll make it. | |
Kate Mulgrew has wonderful instincts. For an actress, being beautiful, talented and clever are great assets, but if you don't know instinctively what to do with these qualities you never become a Superstar.
Kate is beautiful in a way that makes you think that the only disappointment she has ever had in her life was not being accepted into the Royal Academy of Dramatic Arts at the tender age of fifteen. "They said I was too young," she says with a 'they'll be sorry' attitude. Katherine – as she was christened – is perfectly proportioned: height, weight, size, turn-of-the-nose, length of hair, eyes flashing, mouth turned upward for an easy smile. She could convince you to buy any product that she was to endorse.
The product she is now in the process of packaging is Kate Mulgrew. "The reason I'm working as an actress is because I look like what everyone wants a twenty-year-old girl to look like," she says with a flash of insight.
Kate is also talented. She has an ability to make what she is thinking and feeling seem mysterious, and that quality can keep you interested in someone for a lifetime. "I have always felt isolated," she admits. "It's the nature of the human condition."
What makes Kate clever is that she seems to understand the effect that her beauty and talent have on others. So it is her instinct that appears to concern her now. How to act on what she feels she should and should not do in order to have "a legend made of myself."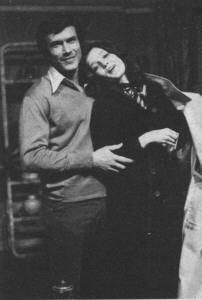 Well, this is the way the "legend" goes so far. She was born twenty years ago in Dubuque, Iowa, the second child and first daughter in a family of eight children. "The first memory I have is of love – the love I felt for my mother and the love that I felt from her. And I loved the country. We lived in the country and I loved it." And then she adds, "But I guess the first thing I really remember loving was myself. I used to say that I had a wonderful childhood, but now I see it as being everything and nothing. When both your mother and father are misfits, they give birth to and raise eight more misfits. There isn't very much peace. It was all too brilliant, too sad, too ugly, too funny, too anything – too Irish."
Kate had a Catholic girlhood. "Actually, more than being remembered as an actress, I'd like to be a saint," she says without the blink of an eye. "To be a saint you have to be a total lover." When we suggest that being a total lover could be difficult for one who has accepted her ultimate isolation, she quickly adds, "Oh yes, that is why there is such great sacrifice involved with being a saint. You must come out of your isolation for someone else's needs. I feel closest to being a lover when I'm acting."
The period between being turned down by the Royal Academy and her arrival in New York a year ago seems somewhat blurred – more mystery. However shortly after arriving in the Big Apple, she landed her first job. She was cast in the leading role of Emily Webb in Thornton Wilder's Our Town at the American Shakespeare Festival at Stratford, Connecticut. Before the start of the Stratford season, she was interviewed by Claire Labine and Paul Avila Mayer, the creators of Ryan's Hope, who were then in the process of casting the serial. Taping for the new show was scheduled to begin in New York in July, which was in conflict with the Festival, but the creators were so taken with the actress from Dubuque that arrangements were made to transport her back and forth between Connecticut and New York by limousine. That is how Kate Mulgrew became Emily Webb and Mary Ryan all in the same summer. Her Emily Webb was not well received by the critics, but her Mary Ryan has become one of the main reasons for the success of Ryan's Hope.
"I much prefer working on the stage to television. It's so much more challenging," she says, obviously enjoying the challenge. "You see, I really want to be great at something. Have you seen Ryan's Hope?" I told her that I had and, in fact, had watched that day's show. She immediately became very concerned about what I thought of the show and of her performance in particular. When I assured her that I found her a very gifted actress, she remarked, "Oh, I want flattery, but it makes my head spin." That might seem like a contradiction except with an actress it adds up to more mystery.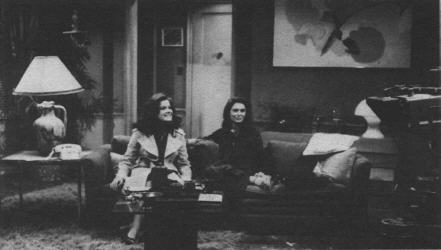 The light began to fade in the Central Park West studio apartment where Kate Mulgrew now lives. There is a convertible sofa that has been converted since my arrival, a side table holding a lamp and telephone, a square dining table with four chairs placed around it and a large, old crazy quilt on the floor which is waiting to be hung on the wall. As Kate turns on the lamp next to the sofa, she looks disturbed for the first time since I arrived at the apartment an hour before.
"I had the worst interview for a job today. It was for a movie which is to star Richard Dreyfuss. Do you know of him? Well, I walked into the office and there he was lying on the couch. We were introduced and he never moved from the couch. Finally I said to him, 'You can get up anytime you like,' but he just stayed there on the couch the entire time.
"I like being treated like a woman," she goes on. "I like the fact that there is a great difference between men and women. I think feminists are a lot of nonsense."
We ask her if she has ever felt at a disadvantage being a woman. "Oh yes," she replies. "When I was a girl my older brother had a very definite advantage in terms of what my father would allow him to do." When I ask how she reacted to this, she says, "I hated it. I resented it fiercely. I felt it was unjust, but I realise now my father was right."
Well that's about all there is to the "legend" of Kate Mulgrew – so far. But there is bound to be more. Will this beautiful, talented and clever twenty-year-old woman succeed in becoming a Superstar? You can bet on it!
The first thing that Kate said to me when I arrived at her apartment was, "I hate giving interviews." When I asked why, she replied, "I can't imagine why anyone would be interested in what I have to say." This is one time Kate's instincts are way off-base. She's fascinating!



[HOME]
[ARTICLES]
[BIO]
[CON REPORTS]
[FILMOGRAPHY]
[TV INTERVIEWS]
[PHOTOS]
[LINKS]
[ODDS 'N ENDS]