Chicago Sun-Times
Thursday, January 22, 1998
| | |
| --- | --- |
| | Kate Mulgrew confronts the future as the 'Voyager' captain - and as the mother of two teens |
Thoroughly Modern Mulgrew
The settings may change, but 'Voyager' captain Kate Mulgrew always plays mom
by David Brian Waldon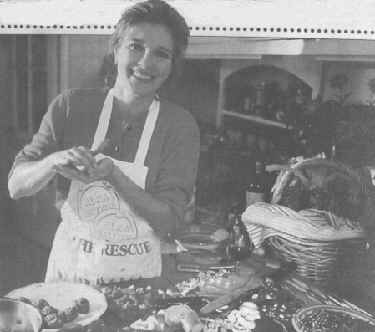 You don't have to watch "Star Trek: Voyager" to know who's the captain of this TV ship. Just visit the show's Hollywood set. There, among the various crew members, stands Kate Mulgrew, a 5-foot-4 woman who nonetheless stands tall on this particular enterprise.

Watching Mulgrew play her 'Voyager' role as Capt. Kathryn Janeway is a sight to behold. Without pomposity, but with confidence, she weaves her way through the chaos of filming, learning her lines and even her co-stars lines to the point where she can pick up another's mistake when no one else, even the offending party, can.

Minutes later, as Mulgrew takes a break in her trailer, her take-charge personality emerges again. This time it's in the form of a phone call from her former husband. It concerns scheduling a family meeting concerning one of their two sons. Suddenly Mulgrew's not the captain of a 24th century starship, but rather a single mom raising two teen-agers while managing a consuming job. The future may be great, but the present is now.

"They're good kids, but they will push it," Mulgrew says of her boys, Ian and Alexander. "They're overprivileged. There's nothing to go for, nothing to fight for. I'm a little girl from Dubuque, Iowa. I got my sneakers out of the basket in a supermarket. Everything was to fight for. The world was a glorious challenge. I mean, they're fed caviar, these kids."

"[Most kids] are in the position of having to help their (single) mothers. But I have money here, so they don't really have to help me in that way. Now this configuration has different colors. So I have to really step gingerly around this. It's a minefield - how to raise boys well under these conditions. And I'm trying."

The sense of family that permeates Mulgrew's personal life also dominates her professional existence. 'Voyager' chronicles the journeys of a starship 65 years away from Earth. As a result, Capt. Janeway is more than a commander to her crew - she's the de facto mother figure of a truly nontraditional clan. And those feelings run off the pages of a script.

"I think about them all the time," Mulgrew says. "I'm very, very fond of them. In certain cases, there is love here. We're a company, and a very strong and tight one."

Exactly how tight that group is has been a minor source of consternation for Mulgrew. As the on-screen relationship between Janeway and second-in-command Chakotay (Robert Beltran) grows, Mulgrew has been adamant in her wish to keep the twosome from becoming a real twosome. She thinks the addition of Jeri Ryan (as Seven of Nine) takes attention away from that issue, which Mulgrew says is less about prudishness than practicality.

"I have endowed Janeway with all of the passion and all the eroticism of anyone else you'd see in these circumstances," Mulgrew says. "But she's got to run the ship. She doesn't have a choice. And so I think she has to be particularly vigilant. The discipline is ironlike. She's got to save these lives. There are 160 of them. She's solely responsible."

Mulgrew's sense of responsibility compels her to give freely of her time to those in need. She's actively involved with, among other organizations, New York's Incarnation Children's Center, which cares for pediatric AIDS patients; and with Sojourn, a battered women's group.

"It teaches me about service," Mulgrew says of her charity work. "Anybody who's in the service of other people is OK in my book because it is so unusual in this town. To do something just because your heart tells you to - goodness is a rare thing."

And, so in Mulgrew's life, is a spare moment, though she makes the most of them. She cooks, reads and spends time with her boyfriend, frequent "Trek" director Rick Kolbe. And every year she takes her boys on a trip to a different place for education and fun. Last year it was Costa Rica; this year it may be the Galapagos Islands.

Around it all, there's 'Voyager,' a universe that Mulgrew has embraced as a great blessing, even with the possibility of being pigeonholed into the "Trek" world. "I've never had that fear," she says happily. "And if I were to be stigmatized, let's be perfectly honest, it ain't a bad way to go out."

[HOME]
[ARTICLES]
[BIO]
[CON REPORTS]
[FILMOGRAPHY]
[TV INTERVIEWS]
[PHOTOS]
[LINKS]
[ODDS 'N ENDS]