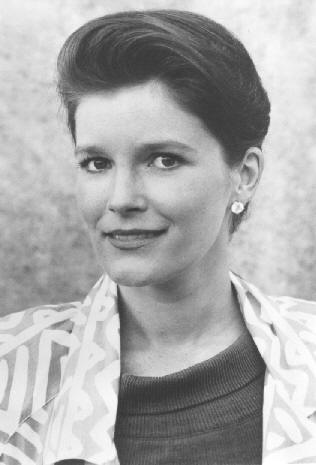 PALM SPRINGS — In Hollywood, a place where youth means more to people than an even tan means to George Hamilton, Kate Mulgrew did the unthinkable. She got old before her time.

"At age 23, I was playing 35 as the wife of Peter Falk on 'Mrs. Columbo,' " said Mulgrew, who currently stars in "Throw Momma From the Train" as Billy Crystal's tough as-nails ex-wife who steals his manuscript and turns it into an erotic best seller. "It was all a terrible mistake.

"I won't say I have any regrets about anything. But, if you imagine, that at 23 I was playing 35, and there is no one in this business who believes that I'm 32 today. I get it all the time. Casting agents ask, "How old are you?' When I say, '32,' I practically hear them saying to themselves, 'Oh, sure! She's 32! Give me a break — this woman hit 50 at least 10 years ago.' So I'm misplaced all the time."

According to the native of Dubuque, Iowa, that "mistake" of playing a middle-aged woman when she was a young actress has held her back, but the outspoken, incredibly candid actress keeps such career moves in perspective. She pulled no punches when assessing her place in the film world.

"This is not a stellar career, and I'm sure you're aware of that," said Mulgrew, whose other screen credits include "A Stranger Is Watching" and "Remo Williams: The Adventure Begins . . ." and who made an impression as the Boston politician on the make for Ted Danson's barkeep Sam Malone on "Cheers."

"I'm not the lead in 'Throw Momma From the Train.' I have small children (two sons, Ian, 3, and Alexander, 4), and I want them to know that I love them, so that is my rightful place (as a mother). I dabble very seriously in this particular form (film acting), and my day (to achieve stardom) will or will not come.

"If you said to me, 'You can never work again,' I'd probably take out a contract- on you. But if you said, 'You cannot have your children,' then I'd rather not live. I didn't have children so that I could say adios to my nanny every day and bring home the big bucks. I had children so that they could be instilled with the confidence that only love can give them."

After her marriage five years ago to stage director Robert Egan, the resident director of Los Angeles' Mark Taper Forum, Mulgrew put her career on hold, a move she now questions.

"You want to know how totally out of it I am? Talk about feminism — I should have a little more feminist energy, because here I was (at the time of her marriage) with a career which was going great guns when I met this guy at a small theater in Seattle, Wash. Do you think there was any discussion that we would move to New York and that perhaps I might continue acting? No.

"He said, 'How soon can you pack your bags?' On my wedding night, I got pregnant, and then 10 months later, I was pregnant again . . . This is the extraordinary journey of life. Women say it's good to have a career for self-esteem, and I kind of beg to differ. I would say I've had this passion (to act) since I was a 10-year-old child, and the passion is as tenacious as it has ever been. But what has enabled me to grow and to deepen in any way is my maternity."

Mulgrew, who enjoyed her first success as Mary Ryan — a role for which she is still recognized — on the soap opera "Ryan's Hope," has a standout scene in "Throw Momma From the Train" in which her successful novelist character appears on "The Oprah Winfrey Show" and badmouths her estranged spouse (Crystal). The actress enjoyed the scene but admitted she'll probably never be a guest on either Winfrey's program or '"Donahue" because of her traditional pro-family/pro-male views.

"I love men, and I get a little tired and bored with women who are in their early middle age and are still angry at men," Mulgrew said between puffs of a cigarette. "I mean, what are they so angry about? They're angry because they're not men. The glory of the world is that we can love one another."

"I think that Oprah Winfrey and Phil Donahue love that (friction between the sexes). They say, 'Let's get the anger out of this woman'. It's always so vulgar what these women are undergoing, like: 'Her husband has abused her for 40 years, and she's here to tell you how she threw acid at him one night.' And she's sitting there sobbing for everyone in the world to see it. Who cares?

"Oprah is never going to have Mother Teresa on her program, you can bet your bottom dollar on that. She would be a little too slow for Oprah."

With "Throw Momma From the Train," Mulgrew must act with Winfrey in a scene which takes place on her show. The actress chuckled when recalling the segment. "I'm a professional actress, and we memorize our lines and give some creedence to the screenwriter," Mulgrew recalled. "In a typical Oprah move, she says to me while we're walking into the studio, 'Oh hell, I threw that thing (the script) out the window. Let's roll with the punches and just wing it.' I thought I'd defer to her.

"We get inside, and I'm expecting to look into the faces of 400 extras who are going to clap when Oprah is funny and boo when Margaret (her character) is bad; instead, it was her regular studio audience (which didn't know that a film was being shot). I'm introduced as Margaret Donner, the author of 'Hot Fire' and the first thing I hear when I sit down is this little old lady in the front row who says, 'Oh, no. She's quite wrong. That's Kate Mulgrew, and I guess her acting career isn't going that well.' It was great."