PILOTS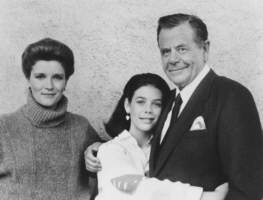 (Left to right)
Kate Mulgrew, Meredith Salenger and Glenn Ford
Click on image for larger view
MY TOWN
Pilot (Comedy-Drama), 60 min
Broadcast 5/25/86 on ABC
8:00 - 9:00 PM ET
Although not picked up as a series this aired as the second feature of
"The Disney Sunday Movie"
First feature - "Casebusters"
Wheelerville, Ohio, is a small town where people seeking to start new lives can get that chance. The idea came from Lucas Wheeler, the banker and descendant of the townís founder, and the unsold series was to relate incidents in the lives of the people who attempt to rebuild their lives as seen through the eyes of Amber Wheeler, Lucasís pretty granddaughter. In the pilot episode, Cynthia and Hal Fisher come to Wheelerville to fulfill a dream-starting a diner. Other Regulars: Tug Wheeler, Amberís brother (they are orphans who live with Lucas); Mrs. McDaniel, Lucasís housekeeper; and Laura Adams, the school teacher.
Cast: Glenn Ford (Lucas Wheeler), Meredith Salenger (Amber Wheeler), Parker Jacobs (Tug Wheeler), Mary Jackson (Mrs. McDaniel), Kate Mulgrew (Laura Adams).
Guest Cast: Laraine Newman (Cynthia Fisher), James Widdoes (Hal Fisher), Elya Baskin (Mrs. Slovak), Richard Erdman (Fletcher Mays), Illana Martin (Laura), Elizabeth Ward (Patty), Amy Lynne (Mary Lynn), Ellen Geer (Mother).
Executive Produer-Writer: Gil Grant. Producer: John Garbett. Director: Gwen Arner. Music: Craig Safan.

CARLY MILLS. Pilot (Comedy), 30 min., Unaired, Produced for ABC for the 1986-87 season. Production Company: MTM Enterprises. Director: Rod Daniel. Executive Producer: John Steven Owen. Producer: Rod Daniel. Writer: John Steven Owen. Kate Mulgrew is a traditional, old-fashioned mother, married to an overworked college professor (Jack Bannon), who has chosen to be a housewife and raise their four children because she wants to.
Cast: Kate Mulgrew (as Carly Mills), Jack Bannon (Evan Mills), Matt Adler (Pete Mills), Amanda Peterson (Trisha Mills), Hannah Cutrona (Brigid Mills), R. J. William (Jeffy Mills), Betsy Randall (Maggie Wallace), Rebecca Rush (Cynthia James).

LIFE IN DESIRE. Pilot (Comedy), 30 min., Unaired, Produced for Fox in 1990. Shortly after she is released from a psychiatric institution, a wealthy New York women (Diana) decides to get away from the hustle and bustle of the city and find a simpler life. She moves to Desire, Louisiana, population 5,000, and the unsold series was to relate her misadventures as she attempts to begin a new life in a town where the folks are sweet and the living is simple.
Cast: Kate Mulgrew (Diana Summerfield), William Daniels (Beauford Braxton), Lane Davies (Buzz Braxton), Nancy Lenehan (Miss Penelope Levec), Kelly Connell (Reverend Claude Hooper), Sarah Abrell (Taffy Hooper). Producers-Writers: Brad Buckner, Eugenie Ross-Leming. Director: Lee Shallat.
Source of Pilot Information: Unsold Television Pilots 1955 through 1989 by Lee Goldberg - Experimental Television, Test Films, Pilots and Trial Series, 1925 through 1995 by Vincent Terrace