Kate Mulgrew wishes she had a bone to pick with the producers of her UPN series Star Trek: Voyager but in the mess hall of her TV starship, there's not much meat on the menu. "I guess in the 24th century we all end up as vegetarians," she says.
Not so in Mulgrew's Brentwood, Calif., kitchen, where the actress is both cook and carnivore, with specialties such as lamb osso buco. "Cooking is great therapy," she says. "I get out of my head completely when I'm cooking."
Mulgrew, 41, who is divorced from stage director Robert Egan, says she honed her cooking skills to nurture her relationship with sons Ian, 13, and Alec, 12, and despite her grueling Trek schedule, she makes it a point to be home for dinner with them at least two evenings a week. "It's good for the family," she says. Among her friends she is famed for her dinner parties. "I love her Mexican dishes," says Trek executive producer Rick Berman. But there is one culinary line Mulgrew won't cross: desserts. After an attempt at making cheesecakes ended in disaster, she recalls, "my kids threw them like Frisbees around the house."
Photographs
by
Dana Fineman/Sygma
Click for larger view, then use your browser's BACK button to return to this page.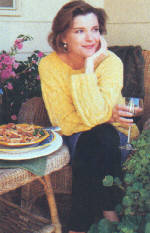 "After cooking for 14 years, I can throw away the cookbooks and make up my own stuff," says Mulgrew (at home in L.A.).
KATE MULGREW
Penne with Vodka
& Spicy Tomato
Cream Sauce
serves 4
1/4 cup extra virgin olive oil
4 cloves minced garlic
1/2 tsp. crushed red-
pepper flakes
1 28-oz. can crushed
tomatoes
3/4 tsp. fine sea salt
1 lb. penne
2 tbsp. vodka
1/2 cup heavy cream
1/4 cup chopped fresh flat-
leaf parsley
2 Italian sausages (optional)
In a large skillet, heat oil over moderate heat. If using sausage, remove casing and add meat to pan. Cook, breaking up the meat, until brown. Add garlic and red-pepper flakes and cook, stirring until garlic is golden. Add tomatoes and salt and bring to a boil. Reduce heat and simmer 15 minutes.
Meanwhile, in a large pot of boiling salted water, cook penne until just done. Drain. Return pasta to the hot pot.
Add vodka and cream to sauce and bring to a boil. Stir sauce into pasta and cook over low heat for 1 minute. Stir in parsley and serve.