Daytime TV presents
SOAPS' 25 GREATEST LOVE STORIES
June 1999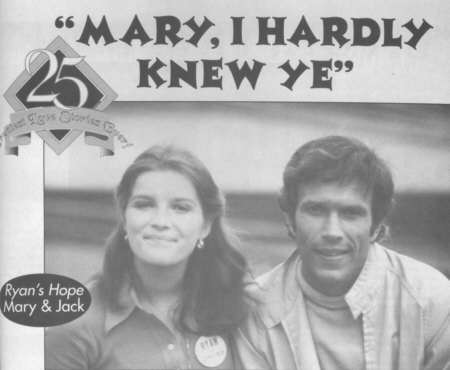 Mary Ryan (Kate Mulgrew) loved her reporter husband Jack Fenelli (Michael Levin) with her heart and soul. Her Irish temper blended with his Italian humor to make a fiery marraige. Sadly, her inquisitive nature caused her death long before she was ready to meet her Maker.
Mary Ryan fell madly in love with reporter Jack Fenelli. The only problem was that Jack had written a scandalous article about her brother Frank, who was running for office. Still, the independent Mary always did what she wanted to and continued her romance with Jack, despite her family's vehement objections.
When Mary's parents, Johnny and Maeve, discovered their daughter was having relations with Jack they were stunned and immediately insisted Jack was not welcome in their home. So Mary moved out of the Ryan house and into Jack's apartment.
Despite her bravado, Mary was still an Irish Catholic girl at heart and longed for marriage. However Jack had spent his early formative years in an orphanage, leaving him emotionally scarred when it came to commitment and marriage. Jack insisted Mary return to her parents' home.
Mary then took a job as a reporter at a local news station, causing Jack to become jealous of the blossoming relationship between Mary and her boss, Sam. Finally, Jack asked Mary to be his bride. The two tied the knot and settled down to married life.
Things took a downward turn when Jack was in a car crash which left him with several broken bones. During his convalescence, Mary excitedly told him the news that she was expecting their first child. Instead of the joyful response, Mary was greeted with silence. The last thing Jack wanted was a child. His hostility towards his unborn child caused such problems for the Fenellis that Jack asked Mary for a divorce and the two separated. Their pride prevented each from telling the other how they truly felt.
Tom Desmond, a public relations man, fell in love with Mary, but seeing she still loved her ex-husband, he conspired with her parents to reunite the couple. They arranged to lock Jack and Mary in the basement of Ryan's Bar. The couple hashed out their differences and by morning they decided to marry again, then spent a glorious honeymoon in Ireland.
Sadly, Mary's investigative reporting for Channel R caused Mary more trouble than she bargained for. She learned Joe Novak, her sister's beau, and his uncle Tiso had ties to the mob. When Tiso saw Mary was getting too close to his dope smuggling operation he rigged her car so it would crash. Mary's injuries were fatal. She later died in Jack's arms, devastating him and the Ryan family.