STAR TRACK
LIFE AFTER DAYTIME
Kate Mulgrew: Still Full of Spit and Vinegar
From SOAP OPERA WEEKLY - 1991
By Jeffrey Pearlstein
Despite having made an impact on the now-defunct "Ryan's Hope" as the feisty, headstrong Mary Ryan Fenelli, Kate Mulgrew had ambivalent feelings about leaving the daytime drama when the world of nightime beckoned for her talents. "That was an extraordinary period of my life for many, many, reasons," she recalls, "most of them rather personal. I made two of my greatest friends from that episode, Claire Labine, who was the head writer, and Nancy Addison Altman (ex-Jillian Coleridge). They became terrific friends, really deep profound friend--so that's been a great blessing."
As for the impact Mary Ryan had on daytime audiences, Mulgrew admits she was "very surprised and never quiet cognizant" of it all until after she left the series. "It's a funny thing," she says. "Times were changing dramatically then and perhaps that's why Mary had such an impact. I think that the world of daytime television had never seen anything like her. Everybody thought she was a dynamo, but they never really acknowledged her in terms of me being nominated for an award, because she was such a different kettle of fish. "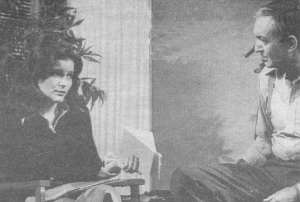 Although Mary was a unique character for daytime, she was not unfamiliar to Mulgrew. "Mary Ryan came from Claire Labine's vivid and very unusual imagination," she says, "And I think that this character was created with an exceptional talent and that Claire waited until she found someone who completely fit the bill for that character and that was me."
"I was very young," she continues wistfully, "I was without guile and full of spit and vinegar, and I had everything that Mary Ryan needed to have and none of the things that we get when we become more experienced and, unfortunately, more cynical. I think I really was Mary Ryan," Mulgrew admits. "She was so similar to me. It was exactly my background-big Irish Catholic family, a headstrong girl full of life. And Claire Labine, of course, wrote for me, " she adds, smiling. "All of my scenes with Helen Gallagher (ex-Maeve Ryan, Mary's mother), all of my monologues, all of my love scenes, were written by Claire and they were specific to the character and written with love."
In 1977, Mulgrew left the series for prime time. "Mary was an original thing to happen on daytime television and I think it worked to my advantage. Fred Silverman, who was then the head of daytime at ABC, shortly thereafter became the president [of the network] and then offered me this prime-time series as a result of Mary Ryan," she remembers.
The series was the short-lived "Kate Loves a Mystery", a detective drama initially revolving around the heretofore unseen wife of Peter Falk's title character in the "Columbo" series. (After a lukewarm reception, the show underwent three title changes, from the original "Kate Columbo" to "Kate the Detective" to "Kate Loves a Mystery". By the third change all references to "Columbo" were dropped, and the character was given the surname Callahan.) "To tell you the truth, I was deeply ambivalent about [doing] the show," the actress remembers. "I didn't think I wanted to leave New York, but I went because in a tragic way, they made me an offer I didn't think I could refuse then."
Although "Kate Loves a Mystery" came and went quickly, the same cannot be said of Mulgrew herself. She guest-starred on numerous episodic series such as "Cheers" and "St. Elsewhere", and made a memorable appearance on "Dallas" as country-singer Garnett McGee, one of J.R. Ewing's (Larry Hagman) conquests. "Says Mulgrew, laughing, "It was the only time they ever allowed me to sing publicly, before or since, but it was great fun!"
This year Mulgrew got the chance to work with Patrick Duffy again (ex-Bobby Ewing, "Dallas"), when she played the role of Sarah Watson in the TV adaptation of Danielle Steel's best-selling novel "Daddy". (The movie also starred Lynda Carter.) As for working with Duffy again, Mulgrew says "He's always been a joy to work with. The first day I walked on the set, he looked at me and said, 'We still look at your outtakes from when you played Garnett McGee (on "Dallas"), when you and Larry were throwing cream puffs at each other,' " Mulgrew laughs at the memory of the incident.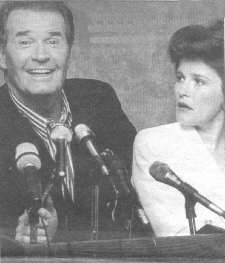 Mulgrew can currently be seen on the NBC series "Man of the People", starring James Garner. "Man of the People" is about a small-time drifter who takes over a small town when his ex-wife dies and leaves him a seat on the city council," she explains. "I play his adversary, Lisbeth Chardin, the mayor of the town, who's corrupt, sexy, and goes for him, but she can't let him know it," she chuckles.
The network has high hopes for the series now that it has been moved to a new time slot (Fridays 9PM), and Mulgrew is optimistic about the show's future because of its star, Garner. "I don't think the series needs much help because James is so damn good," she boasts. "He's just a great guy, who couldn't have been nicer, more generous, more professional and more genuine. He's very real and the laughter just comes."
No matter what medium she appears in, Mulgrew never fails to get recognized. "I think people think I'm accessible, " she says. "I'm never treated as a star, either by fans or other actors, and I like it like that. I don't get the star treatment, and I think that means I'm a good actor. They acknowledge me as a human being, and to me, that's invaluable, because that's exactly what I am!"

[HOME]
[ARTICLES]
[BIO]
[CON REPORTS]
[FILMOGRAPHY]
[TV INTERVIEWS]
[PHOTOS]
[LINKS]
[ODDS 'N ENDS]