Click on images for larger view, then use your browser's BACK button to return to this page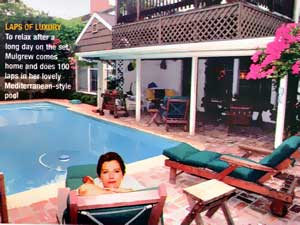 Laps of Luxury
To relax after a long day on the set, Mulgrew comes home and does 100 laps in her lovely Mediterranean-style pool.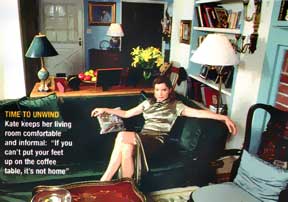 Time to Unwind
Kate keeps her living room comfortable and informal: "If you can't put your feet up on the coffee table, it's not home".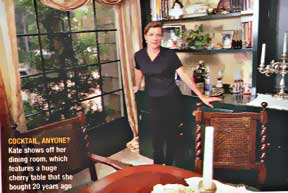 Cocktail , Anyone?
Kate shows off her dining room, which features a huge cherry table that she brought 20 years ago.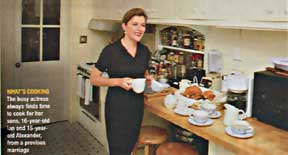 What's Cooking
The busy actress always finds time to cook for her sons, 16-year old Ian and 15-year old Alexander, from a previous marriage.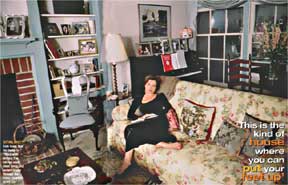 Sitting Pretty
Kate loves that her home is "filled with history. I've carried each chair, lamp and picture frame through the many chapters of my life."
On Star Trek:Voyager, Kate Mulgrew plays a captain trying to get her crew home to Earth. In real life, landing the job on Star Trek six years ago saved the struggling actress from losing her Brentwood home.

"I was all set to put the house on the market and move into an apartment in Westwood, and then I got this job," she explains.

Mulgrew, 45, who plays Captain Janeway on the syndicated sci-fi series, admits her 3,883-square foot, 10-room house isn't the fanciest or most expensive home around - and that's the way she likes it.

In a neighborhood with million-dollar mansions, her house has an assessed property value of $650,000.

"This is the kind of house where you can-put your feet up on any surface says Mulgrew who shares the house with her husband of one year, business consultant Tim Hagan, and her sons Ian, 16, and Alexander, 15, from a previous marriage.

"If somebody drops a glass of wine on the floor, it's not the end of the world. It's probably the beginning of the party."

Mulgrew decorated the home her self and cherishes each item - the bronze candle holders she bought many years ago when she lived in Italy, the silver candelabra she inherited from her grandmother, the buffet made by her brother Joe, the beautiful paintings done by her sister-in-law, Wendy Rolfe, and the cherry dining room table she bought 20 years ago.

Her most treasured possession, though, is a velvet pillow embroidered with the saying: "Happiness is like a butterfly: The more you chase it, the more it will elude you."

"I bought it when I was 18 and practically starving to death in New York," says Mulgrew.

The actress' favorite place to relax is the living room.

"The minute there's a nip in the air, the fire's lit and the brandy is poured," she says.

Dinnertime is also sacred for Mulgrew, who loves to cook.

"My approach to unwinding is to take a long swim (she does 100 laps in a Mediterranean-style pool) have a glass of wine, and then cook a wonderful dinner."