TV GUIDE
Jan. 14-20, 1995

The following article appeared in the U.S. edition of TV GUIDE.
A slightly shorter version of the same article also appeared in the Canadian edition.
Captain Kathryn Janeway
Kate Mulgrew

By Michael Logan

Let's get one thing straight up front: Kate Mulgrew is not a feminist.

"I just don't buy into it," shrugs the first actress ever to captain a Trek series. "I'm sure this is politically incorrect for me to say—but the history of the world will bear me out: Any time has been the right time for women. I've read too much to believe otherwise. If we'd just stop all this absolutely endless, nonsensical banter about sexual superiority we'd realize that it doesn't exist."

And that's why she's so passionate about playing Voyager's Kathryn Janeway. "Her authority, her prowess is never questioned on any level at anytime," says Mulgrew. "This is not one of those 'Let's see if she can be a captain' situations. She is captain. Gene Roddenberry would applaud this." The role comes naturally to Mulgrew, who grew up the second oldest of eight kids in a quintessential Irish Catholic clan. "I was raised with all that macho, back-slap, let's-have-a-drink, and go-to-Mass stuff—but I had power in that family and I exercised it. I'm really very bossy."

Her two sons—11-year-old Ian and 10-year-old Alec—would likely agree. In fact, in the Mulgrew home, if Mama ain't happy ain't nobody happy. "Careerwise, the last two or three years have not been what I'd call wonderful," admits Mulgrew, who has split from her husband, stage director Robert Egan.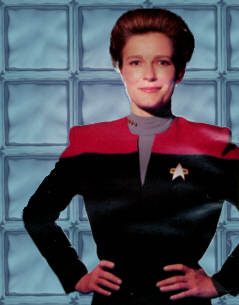 "The strain of my not working, of not getting the kind of work that I wanted, has been very tough on my kids. It's been hard seeing their mother unfulfilled. Things are much happier around the house since Voyager came along. They're smart boys and know a good thing when they see it."
As yet, neither child is a Trekker ("They're into that 'Yo, what up!' hip-hop thing," grumbles Mulgrew). But then, she wasn't exactly what you'd call a fan, either: Before auditioning for Voyager, the only Trek she'd watched were episodes featuring recurring guest star John ("Q") deLancie. "And that's because I had to," laughs the former Mrs. Columbo. "John's a great friend of mine— and if I didn't see his episodes, I didn't get invited to his parties."
In a way, her ignorance led to bliss. "When I first read for Janeway, I wasn't really sure what Voyager was supposed to be. A movie? A series? I just went in and was totally relaxed. If I'd understood the enormity of the phenomenon, I probably wouldn't have gotten to first base."
But—now that she's won the pennant—will she be able to fill the legendary shoes of Shatner and Stewart?
"I'm not even thinking about it," insists Mulgrew. "I'm exercising absolute myopia and just focusing on Janeway. It's the only way to fly."
And she'd prefer to be the only one doing the focusing, thank you. "I turned around on the set the other day and caught a photographer taking a picture of my rear end. Get this—to be used for my official action figure! There are 10,000 better butts in Hollywood—so I told him to go out and find one."