TV GUIDE
Oct. 8-14, 1994

The following article appeared in the U.S. edition of TV GUIDE. Except for a few word changes the same article also appeared in the Canadian edition. Photos are from the Canadian edition.
WHERE NO WOMAN HAS GONE BEFORE
Kate Mulgrew beams aboard as the first female captain to helm a 'Star Trek' TV series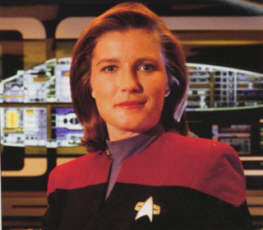 Her irascible, Irish, shoot-from-the-hip temperament seems perfectly suited to phaser war fare, but Kate Mulgrew swears her first audition as Voyager's Capt. Janeway—videotaped in August in New York—was really pretty stinko. "You can't run around screaming for taxis in the pouring rain and then be an auspicious space captain," says Mulgrew. "Besides, you have to see me, meet me. That's the kind of actress I am."

Subsequently arranging a face-to-face with the producers in California, the spunky star says her second tryout "was pretty good, but by that time I think it was probably a fait accompli that Genevieve Bujold had the part." When Bujold suddenly quit, Mulgrew—who was down with the flu—was summoned for another look-see, and nailed it.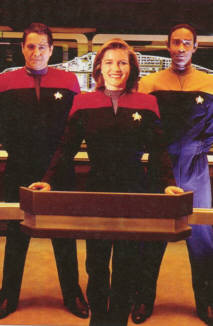 "This is all about destiny and luck and timing. God knows, there are hundreds of strong actresses," says Mulgrew, a former soap queen (Ryan's Hope) and movie dabbler ("Throw Momma from the Train") whose first sojourn into prime time—1979's Mrs. Columbo—was anything but blessed (after a few dismal episodes, it became Kate Columbo, then Kate the Detective and died as Kate Loves a Mystery). Mulgrew, then 23, detested nearly every minute of it. "But when you're young, you just don't appreciate. Now I'm 39, I have two sons, I have a rich life, and Voyager is most propitious. I'm a very happy cookie." Trek's technobabble doesn't worry her (after all, she played the gynecologist lead in Heartbeat, a 1988-89 doctor series), and neither does the stress. "This is the kind of work I do well," boasts Mulgrew. "I'm pretty good under the gun. It suits me."
But stress doesn't suit Janeway—and that's the part Mulgrew digs most. To relieve the pressures of being lost in space, the captain will regularly escape into a "holo-novel," which allows her to play fantasy characters in serialized adventures. Her first dual identity: a pioneer woman crossing the prairie. "It's the cleverest idea—these producers are really smart," says Mulgrew, who also tips her hat to Bujold. "She's a great actress who showed great courage in her defection. And I'm very grateful to her."