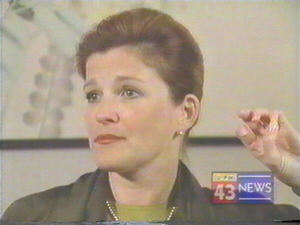 Cynthia Tinsley: "Actress Kate Mulgrew says it's a role that has changed her life. I recently talked with her about the impact of playing the first woman to command a federation starship".

Clip from Voyager

Janeway: "Quantum matrix, benetine crystals, borg technology can you imagine what Star Fleet is going to say?"

Chakotay: "I don't think we will hear any complaints."

Cynthia Tinsley: "And for five seasons there have been very few complaints for Kate Mulgrew and her portrayal of Captain Kathryn Janeway. Oddly enough, it's a role Mulgrew didn't get at first. Another actress got the part, but quit after only a day and a half of shooting. Four actresses, including Mulgrew, were asked to come back and audition again...and the rest as they say is history."

Kate: "I felt so nervous in the beginning, so many things hung in the balance..the first actress had left and I had 50 suits staring at me. I understood there were 500 jobs on the line."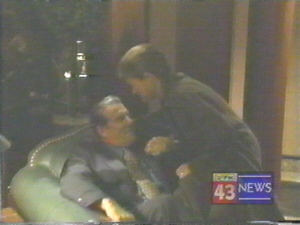 Cynthia Tinsley: "Mulgrew admits her first season on the show was the most difficult...she fought to make Janeway a gutsy woman who wasn't afraid to be compassionate. Mulgrew has grown into her role, eager to explore different nuances of Janeway's character. But series television means having a very demanding schedule. Her work days are often 15 or 16 hours long...and time with her children and new husband, former Cuyahoga County Commissioner, Tim Hagan is rare."
Kate: "There are many days when I don't see them..cause I leave at five, they're still sleeping..I don't get home until about 10 or 11..that's the toughest part of all."
Cynthia Tinsley: "But Mulgrew says the changes in her personal life have only re-energized her professional one. Next season Janeway will evolve in her command too, showing a more unpredictable, edgy side. Yet, Mulgrew is always listening to her fans... many of whom are young women, who see her character as a role model."
Kate: "I think that my impact on young women in particular has been great and in science it has been even greater...and I thought all right now for the first time in your life you have to transcend just playing this role, you have to be responsible as a role model."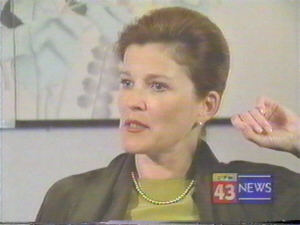 Cynthia Tinsley: "Mulgrew says she expects to be at the helm of Voyager for at least another two seasons..after that she will divide her time between Cleveland and New York, where she wants to work in the theater. Still, it's the role of Kathryn Janeway that has taken her where no woman has gone before."
Kate: "I'm mad about her, let's be very clear about one thing..I am mad about Kathryn Janeway..I love her, I'm devoted to her and I have worked very hard to shape her against great odds."

Cynthia Tinsley: "And it's hard to imagine anyone else playing that part. But oddly enough, Kate says when she first auditioned for the Captain Janeway role she was relieved she didn't get it, because she didn't see herself as a techno-scientific type character. But fans of the highly ranked UPN show are glad she was wrong."