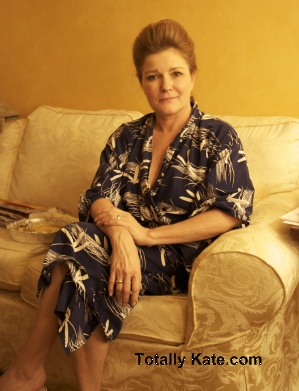 "Why would I recommend New York? It's the greatest city in the world – and I've lived in quite a few of the greats. But I'm an actress… and I came here first at 17. I went to NYU and studied with Stella Adler and–" Kate Mulgrew pauses to make the point "– I'm from Dubuque, Iowa. New York was life, hope, everything. In my travels I've lived in Florence, London, Ireland, Los Angeles – nothing compares, absolutely nothing. This is a perfect city for my nature. You can pick whatever you want here at any time and nobody judges you, so I can be as alone as I wish to be and as sociable as I wish to be."

An interviewer from the Totally Kate website (Totally Kate interview) and I are sitting in Mulgrew's subterranean dressing room, backstage at the Broadhurst Theatre on 44th and Broadway in New York, and she's having a much-needed snack after the matinée of Equus. As this goes to press, she will have just finished playing English magistrate Hesther Saloman, having taken over the role in a transfer of Thea Sharrock's 2007 production from London's Gielgud Theatre to the Broadhurst. It's obviously been a taxing afternoon, as she's tucking avidly into a tray of crisps and nibbles beside her. We're offered a fizzy drink, and there's an unopened box of cookies on the chair beside us. The drink is welcome (it's a bit hot and dry down here, though Mulgrew has made the bijou room homely, and the mirror lights cast a lambent glow that enhances Mulgrew's careful warmth as she greets us) but I don't like to accept the food. I'm already nervous at being in the presence of Captain Kathryn Janeway as was, and could well embarrass myself by choking on a crumb.

But Mulgrew isn't Janeway. That's yesterday's shuttle launch; been there, done that, got the Star Trek memorabilia and enthusiastic fan base that goes with a stint in the Captain's chair. Mulgrew gained a whole new following by making Sci-Fi TV history by being the first female captain in a primetime syndicated show, and in the process became something of a gay icon. There's something about a commanding woman in a uniform… so I have to ask, has any guy ever dragged up as Janeway at a convention? She's a little surprised at the question. "In drag? No, I've missed that one." She thinks for a moment, and then, with a definite twinkle in her eye, drops her voice to its lowest drawl: "They couldn't possibly measure up – there's no voice deep enough! – but now that we've said this, I'm sure someone is going to next time, right?" I know a few who might...

Mulgrew is relaxed in a blue bamboo-patterned housecoat – I say 'housecoat', but she wears it as if it were a Jaeger Casual. This is Saloman the elegant, professional magistrate at rest. In the play, she brings the case of severely troubled teenager Alan Strang (Daniel Radcliffe) to child psychologist Dr Martin Dysart (The History Boys' Richard Griffiths). She's an educated middle-class woman, and Mulgrew, as expected, had few problems with finding her character's voice. "The accent wasn't hard – at least, I don't think so," she confides. "I've always been able to do English, Irish, French and Italian accents. I felt she was upper-class… I asked Richard (Griffiths), and he said, 'Yes, she's definitely upper-middle-class.' She has a Law degree, she's probably married to the most affluent man in the village. And I've spent a great deal of time in England." It's a mark of the actress in her that, while she's been explaining this, Mulgrew's vowels have become crisper and short, more English. Yes, she can probably add 'British Home Counties' to the skills list on her resumé.

"Hesther is so clearly a supporting role." She's being too modest. She's a very important character. She's a commentator on Dysart's thoughts, and a link between him and reality. "Yes, she's important," she allows. "I had to dig deep, because she's pretty much the messenger, the conscience of the audience. She is the only character who lives in present time. She's a lot of things not on the page. I've fleshed her out, filled her up, and I don't think there's much more meat to find, short of making it a confection – and I'm not going to do that. I've done my best to make her multi-dimensional, very much in the moment with him [Dysart]."

She grows fulsome about Griffiths, with whom she plays all of her scenes. "I love Richard," she enthuses with genuine warmth. "You always hope that one person is going to become your friend in a run like this, and he's quite dear to me. I didn't think it would happen. His role is so arduous for him… then over the months, he came to the house a lot – and we're like-minded. I love his sense of humour." She becomes suddenly thoughtful. "There's a sadness and a truth to Richard that I admire. You can see it when he's acting – he's incapable of lying – I count myself lucky to have had this time with such a fine actor."

She doesn't play any scenes with Daniel Radcliffe, but what does she feel about the infamous nude scene? "The play's been around a long time. Shaffer (playwright Peter) is erudite and gifted, and not, I don't think, a gratuitous kind of person. The sex is there to draw your attention, in a severe and immediate way, to the size of the problem. Without that vulnerability, we wouldn't recognise that Alan has given all of his over to the horse. It's two kids taking off their clothes – and not having much fun, in the end."

This year is obviously going to be a busy one for Mulgrew. Apart from interspersing work with her other passions – she's on the National Advisory Committee of the Alzheimer's Association [her mother suffered for many years from the debilitating condition], and at the end of last year she helped auction off Dan Radcliffe's jeans for the Broadway Cares/ Equity Fights Aids charity – she still makes regular appearances at Star Trek and Sci-Fi conventions throughout the world.

There will, however, be one regretful absence. Two days after finishing in Equus, she was due to begin rehearsals for a regional theatre production of Terrence McNally's Master Class. The gay playwright's one-woman piece is about a moment in time, a workshop being given by the camp, glamorous opera icon Maria Callas (she had a copy of the script beside her on the sofa). However, due to unforeseen circumstances, Mulgrew has since had to pull out. It's a shame. She told me that she had been practising her Italian in between scenes, had watched all the available documentaries and films on the star known as La Divina, and had read all the books about her she could find.

After her recent outing as Katharine Hepburn, it would have been another character part that looked at the darker inner life of a larger-than-life person (although, she admitted she found Hepburn a walk in the park compared to what she'd discovered about Callas).

But sadly, it's not to be. As we wind down, Mulgrew agrees to having a couple of photos taken, but when I ask her to hold up the script, there's a flash of La Divina; "The script?" she says, a slight sting in the voice. She's not impressed. I head out onto a chilly 44th Street, regretful that Mulgrew isn't going to give fans the opportunity of watching her exercise her inner diva. She would have made a damned good job of the sometimes caustic, commanding, funny, talented and sensitive Callas.