Telegraph Herald - Dubuque, IA
July 28, 2006
By Jenny Beck Mulgrew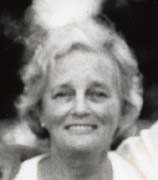 Joan Virginia (Kiernan) Mulgrew, 78, a renowned artist and wife of the late Thomas J. "T.J." Mulgrew II, of Dubuque, died Thursday, July 27, 2006.
The family will have a private ceremony. Friends are invited to a reception from noon to 3 p.m. today at Sweeney's Supper Club, 11777 Highway 52 N., Sageville, Iowa. The Egelhof, Siegert and Casper Westview Funeral Home, 2659 Kennedy Road, is in charge of arrangements. Her casket was provided by Trappist Caskets, Peosta, Iowa.
Mrs. Mulgrew was born on Oct. 21, 1927, in Montclair, N.J., the middle child of Florence (Saunders) and Frank Kiernan. She attended Mount Holyoke College, Massachusetts, and St. Mary's College, Kansas, where she earned a degree in philosophy.
While attending Sacred Heart Boarding School for Girls, Pennsylvania, she met her life-long friend, Jean Kennedy, sister of John and Robert. Mrs. Mulgrew spent many summers at Hyannis Port with the Kennedy clan who fondly named her Jiki.
After serving as John Kennedy's private assistant during his run for Congress, Mrs. Mulgrew moved to Chicago, where she worked as an art director for an advertising agency. It was here she met Thomas. J. "T.J." Mulgrew. They married in 1952, and moved to Dubuque. She had eight children in 10 years. Two daughters did not survive: Margaret Anne and Therese Louise.
An adored wife, mother, grandmother and great-grandmother, Mrs. Mulgrew was perhaps best known for her artistic talents and generous contributions to the local art community.
Under the tutelage of her dear friend, the late Francesco Licciardi, she found the courage and confidence to pursue art as a career. She studied all over the world and became quite a successful artist, exhibiting her works throughout the United States and Europe.
A final retrospective of her paintings was displayed at a sold-out show at Dubuque's Plane Art Design gallery in 2002. It was a profound testament to the woman as a fine artist and beloved friend.
Mrs. Mulgrew was very much a Renaissance woman. Her curiosity and passion for life was boundless. She loved to travel, cook, read, sew, play the piano and entertain guests in her home. She had a special place in her heart for the Trappestine nuns at Our Lady of the Mississippi Abbey, the bright lights of New York City and a good burger at one of her favorite haunts, the Dubuque Mining Company.
Married for 50 years, Mrs. Mulgrew (affectionately referred to as Beanie) and her husband (T.J.), lived in a pre-Civil War house outside of the city called Derby Grange. The 40-acre estate was a magical oasis for all who lived there or visited. While T.J. offered wit, wisdom and wine; Joan shared intellect, inspiration and ideas, often prompting exciting conversations. They were a dynamic duo; funny, clever, eccentric and lovable.
Mrs. Mulgrew's view on life was simple: follow your bliss and never resist a good impulse.
Surviving are her six children, Tom Mulgrew, of Nashville, Tenn., Kate Mulgrew and Jenny Mulgrew, both of New York, N.Y., Joe Mulgrew, of Dubuque, Laura Mulgrew, of Center Point, Iowa, and Sam Mulgrew, of Monmouth, Iowa; 15 grandchildren, Annie Mulgrew, Thomas Mulgrew IV, Ian Egan, Alec Egan, Rory Mulgrew, Madde Mulgrew, Ryan Mulgrew, Sarah Buelow, Gregory Buelow, Anthony Buelow, Joe Buelow, Therese Mulgrew, Josephine Mulgrew, Isabel Beck and Michaela Beck; and two great-grandsons, Jackson Mulgrew and Devon Buelow.
In lieu of flowers, the family kindly requests that donations be sent to the Alzheimer's Association of Dubuque, 5900 Saratoga Road, Dubuque, Iowa 52001, and Hospice of Dubuque, 2255 Kennedy Road, Dubuque, Iowa 52002.
The family also would like to give special mention to Joan's long-time caregivers, Lucy Ledezma and Felipe Torres.