I was extremely fortunate to have been able to see Kate in the play Love, Lose and What I Wore, both Saturday night and the last performance on Sunday afternoon. I had already purchased a ticket for Sunday and then someone posted on Totally Kate's Face Book page that their friend could not make Saturday, would anyone like the ticket. I inquired and got the ticket. Always nice to meet more Kate fans.

So it was a Kate weekend for me.

This review encompasses two days in two pages, so...Let's just jump right in shall we. And now that the play is over, I will also talk about the skits she performed.

First, I noticed two women with bouquets of flowers in the audience. We spoke of them and how pretty the flowers were.. (It ties in trust me)

Saturday night was unbelievable. The audience was into it, and the actresses fed off the laughter, which was in an abundance. Unfortunately Allison Mack could not be there, and they called in Ashley Austin Morris to perform.

Kate does the Senator skit. It is about a woman who is married and meets a married man and they fall in love. He is going to jail. They both leave their spouses and get together. She visits him in jail in pants with a hole cut in the crotch so they can have fun and pull one over on the guards. When he is released, she meets him in knee high boots and nothing on under her raincoat. She goes on to say... "I'm a Senator now, and he's a life coach. You might know us, but you will never know this story is about us." This got a round of applause. Let me just say, that all of the skits Kate did alone got a round of applause.

She also plays the mother to Ashley's bit about the embarrassing 'outfit' her mom got her for her birthday. She plays the shrink to Adriane Lenox's woman who is married and needs to get a divorce. Again it's Kate who plays the big sister to Adriane who falls in love with a guy who wears cowboy boots. Ashley is the other sister and she and Kate have many lines that intersect quickly - and they did this flawlessly.

Kate also plays a woman who remembers as a little girl she is given a beautiful dress by her mother. A few weeks later her father, who is a doctor, has the mom committed and divorces her. He then marries his nurse, who gives the dress away to the cleaning lady's daughter. Lots of angst and guilt when she sees her wearing it during recess and attacks her. Very moving and we applauded loudly.

The dressing room. I think this got the most laughs and loudest applause. Kate's character goes to buy a bra and the sales person tells her she is buying the wrong size. So she puts her in a dressing room that is probably the utility closet because it has a case of paper towels in it. She puts her in a bra a size too small in cup size and lifts, hoists, grabs, squeezes and calls in all the other sales clerks to check it out. Now mind you, as she is telling this Kate is lifting, hoisting , grabbing, and squeezing! Then she says she looked in the mirror and she was a new woman. Her last line is... "I am a new woman, and it took being felt up by Marveline in the utility closet." We all howled with laughter and clapped like lunatics.

Kristine Nielsen does the purse skit, which is about a woman who has no fashion sense and has the last 10 years in her handbag. She is so over the top with her facial expressions, vocal range, body mannerisms. You have to laugh at it all. Which the entire cast did. Kate was laughing so much she was grabbing Jayne Houdyshell's leg.

She also does Geralyn's story - the cancer survivor. Riveting. We applauded at the end because it was so poignant. She definitely uses her voice to convey the emotion she is feeling in this piece.

Jayne has a small skit about how as she gets older her cleavage looks like a peach pit. As she was doing this, her necklace came undone and fell into her cleavage. She dug it out and made a comment about how it wants to enhance it. We all fell out laughing. Kate was hysterical. Jayne looks at her and goes, "I couldn't have planned this if I wanted to," To which we all cracked up. Nice save.

Jayne says her outfit is from Eileen Fishers. She turns and glares at Kate. To which she draws back shocked. Kate has the line, "If you shop at Eileen Fishers, you might as well say you gave up!"

Which is not true, because all the outfits came from Bloomingdale's. I don't remember this line at the opening, so I'm wondering if it is an ad-lib recently added.


For the first time in my life, I waited at the stage door.

I was standing next to one of the women who had flowers. We chatted for about 15 minutes while we were waiting. She was there with two friends. She said she knew Kate, and that the other woman with flowers was a good friend also and was still inside giving them to Kate.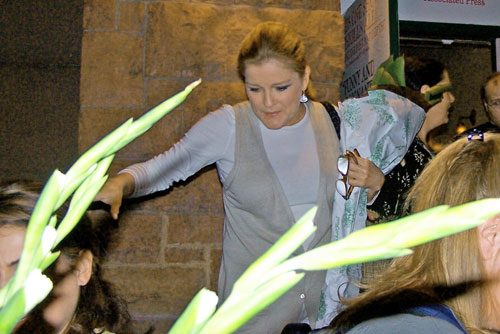 First out was Ashley. I got her autograph and chatted about how wonderful she was and how she performed like she was with this ensemble for the entire time. Nice woman. Then the others came out of the stage door. All of a sudden Kate was strolling along the walkway, flowers in hand. She came out the front door, not the stage door. I got a photo of Kate. She is holding the flowers and it's framed with the flowers waiting to be given to her by her other friend. The woman in front signing is Kristine Nielsen.
Kate walked up to the woman with the flowers and hugged and kissed her and they chatted for a bit. Ashley and I continued our conversation. Then Kate turned to us and walked over. She said "Nice to see you again. I bet you want me to sign that, huh?" I laughed and said please. As she signed it she noticed Ashley already signed it. Kate said to me, "Wasn't she wonderful, she was called in at the last minute and did a great job, don't you think?" I agreed and we had a nice chat about the play and Ashley, who stood not inches from us beet red as we spoke of her as if she wasn't there. We just chuckled.
Kate signed a lot of stuff and took a lot of photos with fans. Then she called over to the woman and her friends, "Let's go have dinner". Which had me chuckling because of one of her answers from the Q&A recently posted.

All in all a great night.
Closing day was electric!! I swear the actresses must have taken a bet on who could draw the most laughs. They were all out of control. Once again Kate walked on stage first. As she did she said hello to everyone as she walked by.
During the Senator skit, as she was describing the crotchless scene she actually draped herself over the chair like she was 'worn out'. Again we clapped.
The bra skit. She was unbelievable. She was grabbing, squeezing, hoisting for all she was worth! Jayne who sits to her right, was gasping for breath. Kristine who sits to her left was leaning back in her chair howling. The other two had their hands covering their mouths as they laughed.
Kristine was beyond over the top with the handbag skit. Everyone was laughing. Kate was laughing so much she would look to Jayne and they would share looks like... Can you believe her?? She even lost it so much she leant over and once again grabbed Jayne's knee to steady herself. She was even looking down at the floor. I guess to try and compose herself - to no avail. She would look away and just crack up. She actually reached over and smacked Kristine at one point. When she was done, Kate raised her arm and tried to hug her. But they were too far apart to get a good hug. It's a tie as to who garnered the most laughs.
I have said it before. Closing nights are magical. They really do leave it all on stage. During the encore they all danced again, but with vigor this time. Kate was doing a butt bump with Kristine. Too funny!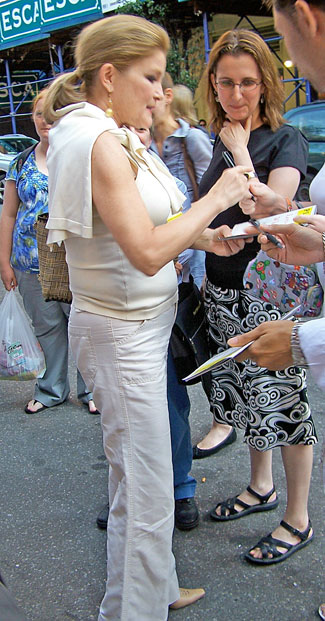 Once again Kate strolled out the front door. She put down her bags on the sidewalk and walked into the sea of fans waiting, She signed anything and everything that was put in front of her. Took pictures. She walked to all the groups of people and chatted with them all. She literally worked the crowd like it was a party.
She even wound up standing in the street signing stuff and taking photos.
I was alone and asked someone to take my camera, and if Kate agreed to a photo to please take it for me. I made my way over to Kate and asked her to sign some Playbills for friends, which she graciously did. I then asked for a photo. She said, "Sure." Well she's signing and we are chatting. Next she looks up and goes, "Where is your friend with the camera?" I drew a blank and just stared at her. She just looked at me and before I could say a word, she glanced to the left and said "Is that her?" I laughed and said yes. I totally forgot I had handed off my camera to a stranger. Needless to say, she took the photo when neither of us was looking. I brought up the picture. And mumbled "Well this sucks." Kate looked over my shoulder and did a throaty laugh and said, 'Yes'. I asked if she would take another one. 'Absolutely." She was a real trooper and stood there waiting for the woman to take the picture.
I thanked her and gathered my things and left after a bit. She was still standing there signing stuff and taking photos. I believe she was the last actress to leave.
Kate really is all about her fans and thanking them. Once again, she showed herself to not only be a great actress, but a great person. Thank you Kate!