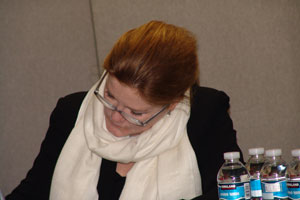 By the time I arrived at Milton Keynes around noon on Friday May 28th, Kate was already there signing enthusiastic and cheerful autographs. At that time the con was only getting started and the queue was short. Of course I greeted Kate first, and got my first autograph.

I took as many pictures as I could and checked out the rest of the con as I was expecting to see a few more interesting guests. After a stroll or two around the stadium, I couldn't help returning to Kate's table to take more photos.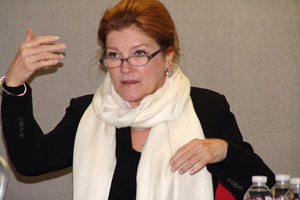 I turned in early as I was up at 5 am that morning and I wanted to be rested for the next day where I would have a lot more queues to join.
A good night's sleep was very welcome. After breakfast I dressed nicely for the day's photo shoots. But first things first - to find Kate's table and greet her with a warm 'good morning'. When I asked her if she had a good night, she said she had slept very well! Kate was now seated next to Robert Duncan McNeill. So which is the best queue to take a picture of Kate? In Robbie's queue of course!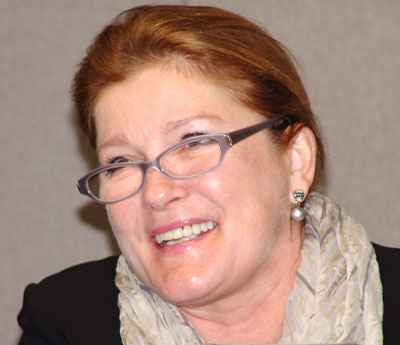 And I didn't mind queuing there! It was a very cold and rainy day, and since I wasn't wearing a jacket, the best thing to do that day was to queue. As I had four photo shoots and another few autograph queues to join I spent quite a few hours queuing! But when you are queuing for Kate it doesn't really matter how long it takes - she's worth the wait. The kindness and warmth with which she greets you makes you totally forget the cold outside.
On Sunday, Kate was warm, friendly, and loveable as always. I queued one more time to get one last autograph. I was running a little low on cash, but it was nothing to worry about. The weekend had been fantastic!
I had a great time and I highly recommend this con to everyone! The only thing missing was the Q&A time with Kate. Hopefully they will include this the next time.
Greetings to you all, and a big THANK YOU to Kate.
Inge