I was put on the photography table on Sunday morning but then one of the bosses came and moved me, claiming me to be a "spare" and not enough work for me. She led me to Robbie McNeill's tent and I was told to do ticketing for the day for him. Well my heart just lurched because it meant I would be working with Kate as well. Happy? I was Julie-Andrews-on-top-of-that-bloody-Austrain-mountain happy.

I spoke to Kate a couple of times and although she was very lovely and gracious with the fans, I think there was no denying the rotten British weather we were experiencing had gotten to her and she was very cold. We had to send crew out to the nearest supermarkets to get the guests fleece blankets, and I got to give Kate hers.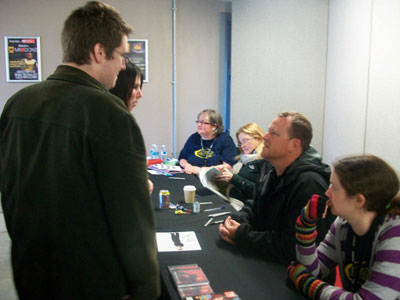 When there weren't fans around to have their pictures and things signed, she was very quiet and read a big book of poetry a fan had given her; I think she was really enjoying the book. But I felt so bad for her because I knew she was cold and I didn't like the idea of any of the guests being cold.
Kate still looked absolutely beautiful and amazing though; she shined her way through the day as only she can. Robbie was amazing to work with, I chatted with him most of the day and helped him plan his Underground route in London to see a performance of Macbeth at the Globe Theatre he wanted to see that night.
All in all although it was very cold, I can't express enough how it felt to even see and meet Kate, let alone work next to her for six hours. I am a huge fan of hers and so to work next to her for the day was a dream come true, putting it mildly. I just can't wait to see her again, although I would not blame her in the slightest if she chose to favour the warmth of the Las Vegas convention to our one in Milton Keynes - I certainly would!