Many Thanks to Joni for sharing her report!

The NJ Creation convention started for me about 12:30 in the morning on Saturday when I arrived at the hotel. As usual there were flight issues, which seem to be the norm for me when I go to see Kate. My roommate and I stayed up talking for awhile about the day to come with Kate being here.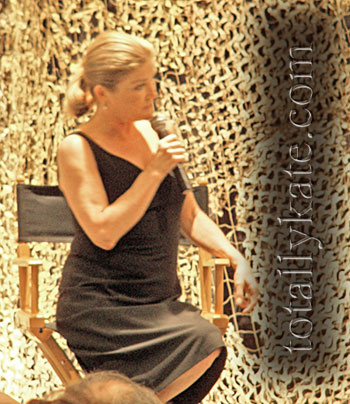 We met other friends for breakfast, and started the convention process. I got in line for my admission band and tickets for the things I wanted to participate in. We toured the dealerís rooms and checked out their merchandise. There were very interesting things and even a few photos of Kate that I hadnít seen yet. After our tour we went to check out our seats. I had a general admission ticket, so that meant I was toward the back of the auditorium, so I tried to get as close as possible. Thank goodness my camera has a 12 x zoom or I wouldnít have gotten any photos.
There was a charity auction before Kate came out to speak, and the banner of her holding a phaser rifle went for the most money of all the individual banners. Next Adam Malin announced there would be a video from the video contest. When he announced my name I was in shock! Even though he pronounced my name wrong, my friends were poking me to go up front. I got a certificate and coupon for Creation merchandise. The best part was when Kate came out. She made a comment about the video almost making her cry. I was on cloud nine!
Kate talked about the fact that there was some confusion about the day she was supposed to be there, but that it all got straightened out and she was happy to be there. She talked briefly about her short film of Guantanamo Bay, and that she was invited to tour Guantanamo, but that she couldnít go because of jury duty. She mentioned her new series, Mercy, and the film they just completed, The Best and the Brightest. She said that she was having a wonderful year and that work was very fulfilling. She mentioned her role in Equus and the work with the Alzheimerís association.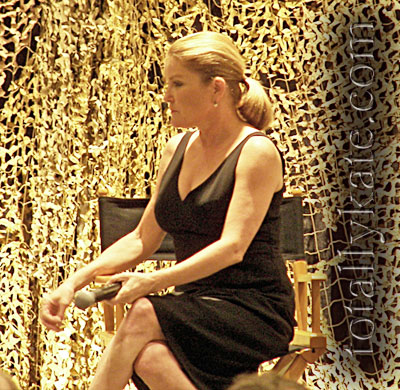 She then took questions from the audience. It was obvious that she was having a good time and particularly enjoyed questions from young children, and young men who adored her. She was gracious to everyone, and looked wonderful. As always, the time went by too quickly. Following her talk, there were photo ops in another area. There was a huge line, but it went quickly. When I got in there, I said, ďI hope I didnít make you cry with the videoĒ, and she said she was very impressed, and asked how long it took to complete. Iím not certain myself, since it was made months ago, but I blurted out a couple of days. I think I floated out of the room after that.
Later there was the line for autographs. Kate is a fast signer, but she took the time to briefly talk to people as they went by. Creation actually allowed personalization this time, so it took a little longer, but was worth the opportunity. After autographing, she was whisked off to a car to be taken home, after a long day on the road.
It was a wonderful experience, and one of the reasons I love to follow Kate.