Cleveland Plain Dealer
Wednesday, November 25, 1998

By Sarah Crump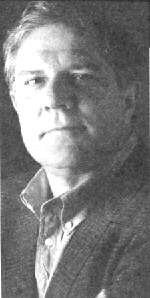 Outgoing Cuyahoga County Commissioner TIM HAGAN has some interstellar plans after his term expires next month. He will marry KATE MULGREW, Starfleet Capt. Kathryn Janeway on "Star Trek Voyager."
Hagan and Mulgrew became engaged in California over the weekend. They met five years ago at the American embassy in Ireland, where Hagan's friend JEAN KENNEDY SMITH served as ambassador. Mulgrew's mother, JOAN, fixed them up. She had already met Hagan through Kennedy and thought that he would be just right for her daughter.
The wedding will take place "as soon as she gets back from the Delta Quandrant," joked Hagan, referring to the "Voyager" story line. Actually, the couple will probably marry sometime during the show's hiatus in April, May and June, he said.
COMING TO CLEVELAND: Mulgrew will come here for a Hagan roast Dec. 21 in the grand ballroom at the Cleveland Marriott Downtown at Key Center. Proceeds from the luncheon will establish a public-service scholarship at Cleveland State University in the names of Hagan's parents, ADA and ROBERT. Syndicated columnist MARK SHIELDS, JIMMY MALONE of WMJI FM/105.7 and Plain Dealer columnist and TV personality DICK FEAGLER will serve as roasters.
Mulgrew is used to all this political hullabaloo. Her father, TOM, is the former Democratic chairman of Iowa.
RIGHT START: Mulgrew called Hagan's mother, ADA, in Madison, Ohio, after Hagan popped the question. When the mother of 14 answered the phone, Mulgrew started their conversation in this endearing Irish way: "Do you have room in your heart for one more?"
Meanwhile, Hagan's daughter MARIE has been impressing the other third-graders at Ruffing Montessori School in Rocky River by bringing autographed pictures of Mulgrew to class.
THEY WILL LIVE HERE: Hagan said that his wife-to-be will make her home in Cleveland when she isn't working in Hollywood. His professional plans include working for the Mandel Foundation, setting up a civic forum series for Cleveland State University, and working with MetroHealth Medical Center's foundation.