Washington Blade
Friday, January 07, 2005

What becomes a legend
Gay favorite Kate Mulgrew brings a one-woman show about the life of Katherine Hepburn to Baltimore's Hippodrome Theatre.


by Patrick Folliard
theater critic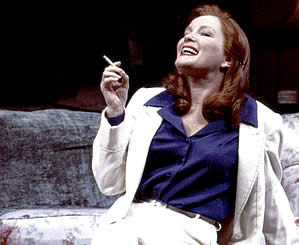 "I DIDN'T GO into this liking Katharine Hepburn very much," says actor Kate Mulgrew, who is currently touring in "Tea at Five," a one-woman show in which she plays the legendary movie star.

"She wasn't one of my favorites," she acknowledges. "But the beauty of this business is that you sometimes fall in love with a character that you initially don't like. I fell in love with Hepburn, and that's why it works."

Written especially for Mulgrew by gay playwright Matthew Lombardo, "Tea at Five" explores Hepburn's life at two crucial times in her career. In the first act, it's 1938, and the 31-year-old movie star has just been dubbed "box office poison."

The second act presents Hepburn more than 40 years later, suffering the effects of a serious car accident and contemplating her retirement from films. All of this is set in Hepburn's Connecticut home at teatime.

The play opens at Baltimore's Hippodrome Theatre on Jan.18 and closes on Jan. 23.

Lombardo says he was struck by Mulgrew's Hepburnesque quality in her voice and looks, and vowed then and there to write "Tea at Five" for Mulgrew, with whom he was already acquainted socially.

"PLAYING YOUNG KATE is difficult," Mulgrew says. "She was an agile athlete with boundless energy. Her invented vocal quality is hard to sustain, and I keep it up the entire first act.

"She was not a self-examined young woman," she adds. "That might have gotten in the way of a career that she wanted more than life itself. As the older Kate, she is far more reflective, and I like that."

The Hepburn legend hangs on cheekbones, fierce Yankee independence, wit, and wearing pants long before it was fashionable. Off-screen, gay screenwriter Arthur Laurents remembers Hepburn as maintaining a slavish devotion to her own contrived persona, and having almost zero sense of humor.

"You will hear any number of things about this woman. And that's exactly the way she wanted it," says Mulgrew, 49. "I have devised my own truth. Through my research, instincts and sheer examination, I've let her sink in. I'm very interested in what defines a person and in her case it's sorrow. Really, she was a brave little soul who made herself into a silver arrow."

From an early age, she was determined to be exceptionally strong.

"I so admire her for not having attempted to raise a family," says Mulgrew, who, unlike Hepburn, is married with children. "She wanted only to be a great star and nothing else.

"Her career endured but not without its slings and arrows," she adds. "She had terrible down times and dark lows, particularly because all she had was a career."

In February, Mulgrew will have performed "Tea at Five" for three years, and she admits she's grown weary. She says it's not the time on stage that's tiring; what's hard is the isolation that comes with touring in a one-woman show.

Foremost in her future, Mulgrew wants to spend time at home in Manhattan with her politico husband, Tim Hagen, who suffered a serious heart attack in September. And she wants to take a little time to reflect on possible future projects.